PAYMENT FOR STOCKS & BARRELS IS REQUIRED AT TIME ORDER IS PLACED

$75 CANCELLATION FEE WILL BE WITHHELD FROM AMOUNT REFUNDED ON ANY ORDER CANCELLED AFTER THE PAYMENT HAS BEEN PROCESSED

WE ACCEPT VISA, MASTERCARD, & DISCOVER

NO REFUND WILL BE ISSUED AND WARRANTY WILL BE VOIDED IF ANY ALTERATIONS ARE MADE TO STOCKADE PRODUCTS WITHOUT CONSENT FROM STOCKADE GUN STOCKS

CALL 308-432-5114 FOR CURRENT PRICES & TO PLACE ORDERS

STOCK PRICES SHOWN ARE FOR SAVAGE INLET BLIND MAGAZINES; CALL FOR CURRENT PRICING
This

picture shows the different styles of trigger guards for Savage rifles. When a stock order is placed we will need to know which style of trigger guard your rifle has for correct inletting.



Stocks — Highest Quality Composite Stocks
Stockade Gun Stocks provide the best composite gun stocks made for the money in the industry. The first stage Epoxy Gel Coat surrounds an unidirectional hand laid fiberglass and carbon graphite cloth that is impregnated with the most modern epoxy resins. An internal aluminum skeleton, with pillars and recoil block, is added for additional rigidity. All internal parts are surrounded by a super high density foam, plus a second coat of high grade epoxy surface gel coat for abrasion resistance. The stock is then painted with industrial marine grade chemical and weather resistant epoxy paint. All trigger guard screws and swivel studs are threaded into aluminum blocks. All stocks come standard with a 1/2" or 1" recoil pad, 2 swivel studs, and are available for right or left hand actions. The standard length of pull for all stocks is 13 1/2". There is no additional charge for shorter length of pull, add $30.00 if additional material is required to achieve the length of pull requested. All stocks are 99% drop in and come ready to shoot. (Because of Savage's wide tolerances you may have to make very slight modifications, such as shortening a screw by one or two threads or adjusting a rub on the trigger area.)
We offer our stocks in three different cosmetic variations, all have the same internal structure.
Painted Completed Stock

This stock is completed and ready for use. There are nine basic colors to choose from. All painted stocks have a textured finish, achieved with a chemical- and weather-resistant three-part epoxy paint.

All stocks can be webbed with black, light gray, rust, or white at no additional charge. Special request colors, such as red, cost an additional $15.00. If you request two colors for webbing, the additional cost is $15.00.
Unpainted Stock

This stock is completed except for the application of the final paint. The stock is primed and ready to paint. (Primed stocks may have small scratches and may require some additional sanding for high gloss finishing.)
Money Saver

All of the cosmetic external work must be done by the customer when purchasing an out of the mold stock. The three basic steps are: sand, fill, prime. This stock has the same internal structure, you do the cosmetic work and save money.

Fill kits are available for out of the mold stocks for $25.00. The kit includes a two part epoxy filler, sand paper and instructions for use. If you have experience working with fillers it should take 20 to 30 minutes to a maximum two to three hours to complete. Camo or custom paint jobs are available starting at $100.00, call for pricing.
Stock Pricing - Savage Blind Internal Mag Box Inlet

Prairie Dog Special/Tactical

Features an ambidextrous design for maximum comfort and control, a vertical style pistol grip with palm swell and thumb ramp, and a 2 1/2" wide semi-flat beavertail forend that offers the perfect blend for offhand and benchrest shooting. The deep butt hook allows for better hand support when shooting with a bipod, while the parallel geometry from the forend to the buttstock ensure consistent return to battery on bags. An accessory rail, adjustable cheek piece or adjustable length of pull(with a 3 way butt plate) are options available for this stock.

Painted/Complete
$450.00

Unpainted
$430.00

Money Saver
$335.00

Coyote Stalker

Ambidextrous, sporter thumbhole, 1 3/4" forend, designed as a carry thumbhole to accept sporter and varmint barrels.

Painted/Completed
$405.00

Unpainted
$385.00

Money Saver
$280.00

E

lk Stalker

Ambidextrous, varmint/tactical thumbhole, 2 3/8" forend, designed for varmint style barrels.

Painted/Completed
$405.00

Unpainted
$385.00

Money Saver
$280.00

Woodchuck

Heavy varmint/tactical style, 2 3/8" beavertail forend.

Painted/Completed
$375.00

Unpainted
$355.00

Money Saver
$275.00

Mule Deer

Monte Carlo style hunting stock, 1 3/4" forend.

Painted/Completed
$375.00

Unpainted
$355.00

Money Saver
$275.00

H

unting Sporter

Accepts light to medium weight barrels, forend width tapes from 2" to 1 3/8" flat forend.

Painted/Completed
$375.00

Unpainted
$355.00

Money Saver
$275.00

Benchrest

Accepts extra heavy barrels with or without magazine box, 3" flat forend.

Painted/Completed
$440.00

Unpainted
$420.00

Money Saver
$300.00

Long-Range Benchrest

Accepts varmint weight to extra heavy weight barrels, long 3" wide forend, bottom of buttstock is 5/8" flat.

Painted/Completed
$465.00

Unpainted
$445.00

Money Saver
$340.00

Rollover Cheek Thumbhole

This stock has a rollover cheek to accommodate all faces, and the thumbhole is large enough to ensure comfort to the shooter no matter what their hand size is. This stock will accept barrels up to .750 muzzle diameter, the forend measures 1 3/8" wide, weight is 28 to 32 ounces. This design greatly reduces felt recoil by allowing shooter to place their whole hand in the sock, utilizing their forearm strength

Painted/Completed
$450.00

Unpainted
$430.00

Money Saver
$335.00
Options
Front Rail with adjustable swivel stud
$50.00 - view photo
Internal Adjustable Cheek
$150.00 - view photo

Saddle Adjustable Cheek




$75.00



3-Way Adjustable Butt Plate
$150.00 - view photo
1/2" recoil pad, grind to fit
$20.00
1" recoil pad, grind to fit
$25.00
Increased length of pull
(longer than standard length of 13 1/2" to 13 3/4")
$30.00
Swivel stud (1/2 10-32 thread)
$2.75
Third swivel stud on stock
$20.00
Flush mount swivel stud
$30.00/single - view photo
$50.00/pair
$70.00/pair on side

Stock weight up to 7 lbs.
Stock weight 7 to 10 lbs.
Stock weight 10 to 25 lbs.
$35.00
$50.00
$125.00
Extra pillar for muzzle loader
(includes bedding and machining of receiver for third pillar so bolt
may be removed while receiver stays in stock; no cut for ramrod)
$225.00 - view photo
Extra pillar for muzzle loader and ramrod
(includes bedding, third pillar, and ramrod cut out)
$275.00 - view photo
J Series action length
$50.00
Striker action
$100.00
Remington BDL inlet


$150.00
Remington ADL inlet


$50.00
Custom painting options
Start at $100.00 - view examples
3rd Pillar for Savage target precision action
$50.00
PAYMENT FOR STOCKS & BARRELS IS REQUIRED AT TIME ORDER IS PLACED

$75 CANCELLATION FEE WILL BE WITHHELD FROM AMOUNT REFUNDED ON ANY ORDER CANCELLED AFTER THE PAYMENT HAS BEEN PROCESSED

WE ACCEPT VISA, MASTERCARD, & DISCOVER

NO REFUND WILL BE ISSUED AND WARRANTY WILL BE VOIDED IF ANY ALTERATIONS ARE MADE TO STOCKADE PRODUCTS WITHOUT CONSENT FROM STOCKADE GUN STOCKS

CALL 308-432-5114 FOR CURRENT PRICES & TO PLACE ORDERS

STOCK PRICES SHOWN ARE FOR SAVAGE INLET BLIND MAGAZINES; CALL FOR CURRENT PRICING
Paint Examples
AR-Camo

Blue Flames

Red Flames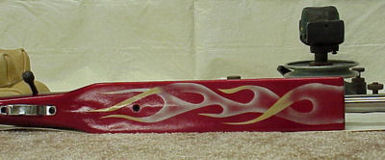 Leopard Print